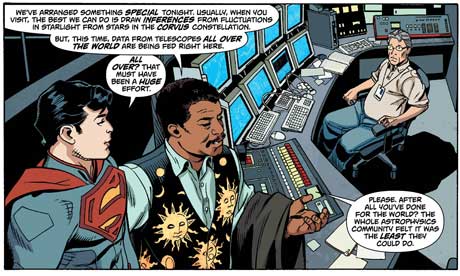 Today's BitList gives us a heavy dose of comic book science, and the image above is only the first part of it. Forgive me if I indulge. Unitard-wearing heroes were a big part of my childhood.
Here's the list:
Dr. Neil DeGrasse Tyson—one of our favorite science personalities living today— makes an appearance in the upcoming issue 14 of "Action Comics." Tyson visits to talk about exactly where Krypton is in the sky, but here's what I get from this image: it makes me realize how loud Tyson's clothing choices are.
Mind-controlled machines used to be the stuff of comic books, but not any more. On Sunday, amputee Zac Vawter climbed all 103 stories of the Willis Tower (formerly the Sears Tower) on one flesh-and-blood leg and one mechanical leg he controlled with his brain.
Comic book villains commonly create giant lasers to wreak havoc on innocent populations, but researchers at Northwestern have gone in the opposite direction: they found a way to manufacture lasers the size of viruses. Instead of smiting their enemies, the researchers intend to use these lasers to build faster computers—or so they say.
Okay. Back on to less sensational topics, PopSci published a nice piece about biological computers. One example of a biological computer? Two herds of crabs chased in intersecting paths. Seriously.
Sick of flat bike tires? Get a set of these, and never worry about breaking out the pump while your on the trail again.
BitList is our regular feature bringing you links to science articles that we think are worth your time.